Falling is a major contributing factor to the deterioration and death of the elderly.
Community awareness can help us prevent falls in our loved ones and preserve their lives for what may be (many) additional years.
One in every three people in the US above the age of 65 falls each year.  By age 80, over half of all seniors fall every year. Someone who has taken that first serious fall is 2-3 times more likely to fall again. Falling leads to injuries and fractures in the body which make it the leading cause of death among the elderly. Many will be admitted to the hospital; after admission, 40% do not return to independent living…. and 25% die within a year.
These statistics are alarming and difficult to digest. Even so, they are actually most likely far lower than actual numbers, because many falls are not reported. We think "Mom will be fine," and move on. Only statistically, she won't be.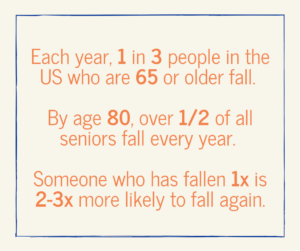 The core causes of falling are issues with balance, strength, or both. One's strength might be impaired by lack of physical activity or surgery. When it comes to balance there are several factors: impaired vision, medications (use of multiple medications), and diseases to name a few. Environmental hazards like poor lighting or loose carpeting can have an impact as well.
Statistically, women have a higher risk of falling than men. This is most likely because of the alarming rate of hip fractures from falls specifically in women. As this 2014 NPR article highlighted, breaking a hip can lead to a range of other frightening health complications for older adults, including the fear of future falls and significant loss of independence. And women are particularly vulnerable: among older adults, the rate of hip fractures in women is more than twice as high as in men.
"Falls have long been a leading cause of fractures, head injuries and fatalities among the older adult population," says Michael Pacifico, MOTR/L at The Miracle Movement Therapy Center at Procare Physical Therapy in Altoona, Pennsylvania. "According to the American Academy of Family Physicians, falls account for 70 percent of accidental deaths of persons age 75 and older. As we age into our older adult years, our overall strength and resiliency decreases, including muscle mass and bone density; which leaves us at a greater risk to have serious or permanent damage from a fall.  Subsequently, the recovery time from these types of injuries also increases."
Pacifico works with patients on specific skills and adjustments to help avoid falls: "As we age, it becomes increasingly important that we pay more attention to how we complete daily tasks, and to modify these techniques to maximize safety and functionality. Through practicing these techniques, we can increase the client's safety and minimize fall risk so that they are able to live their lives to the fullest potential for as long as possible."
He specializes in working with clients suffering from movement disorders such as Parkinson's Disease and Multiple Sclerosis, among others. "Balance and safety are especially important in this patient population. Setbacks in the form of injuries resulting from falls have increased potential to become not only a threat to their independence but in some cases are life threatening."
Ustep walkers, created with specific features for those suffering from neurological conditions such as Parkinson's and Multiple Sclerosis, have a unique design for fall prevention. The Hallmark of the U-Step is the "U" shaped base that surrounds you,  bracing you from falling in every direction. In addition, the "squeeze-to-go"  braking system and the rolling resistance control, are integral for safe walking.  
Pacifico adds, "I have found great success utilizing the U-Step II walker in my clinic due to the added stability of the walker, as well as the visual and auditory cueing provided in the cueing module to combat freezing most often associated with Parkinson's Disease. The reverse braking system adds to the safety of the device by providing a solid walking aid that requires the conscious effort of the client to release the brakes to facilitate movement."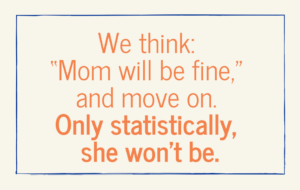 While trying to recover from that first, most dangerous fall, many people have a walker recommended to them for support and to prevent additional falls.  Second falls carry additional significant physical decline and risk. Pacifico explains that the role of a physical therapist can involve preventing future falls in addition to aiding the healing from those that have already happened. "As an occupational therapist, part of my job is to ensure that my clients are properly educated in safety techniques necessary to minimize fall risk, including but not limited to transferring from one surface to another, safely standing up while using an assistive device (ie: walker, cane), and while ambulating."
Mike Studer, President of Northwest Rehabilitation Associates in Salem Oregon emphasizes the importance of getting up and moving as much as possible after a fall. Studer explains, "Walking re-introduces skeletal and muscular loading, a light yet dynamic stretch, as well as an active muscle pump. Each of these elements can help to reduce the primary complications of such injuries like hematoma, pain, swelling, and structural damage to a muscle."
Inactivity and being confined to a wheelchair or bed rest, on the other hand, can cause a loss of strength and endurance and harm the healing process. Studer adds: "The use of a structurally-sound walker, such as the U-Step, can afford the option of greater support, and less pain-induced compensations in efforts to walk – which can be equally damaging.

According to Studer, without regular movement, whether that be by walking or by range of motion, loading, massage or an active muscle pump, the collagen fibers of the body do not heal properly and become painful scar tissue. This causes "swelling, and both bone density, as well as contractile fibers, are ultimately weaker."

The biggest challenge in fall prevention is that no one wants to begin using a device to prevent falls…. until they have fallen. Convincing someone whose mobility is deteriorating to make this type of change in lifestyle prophylactically is very difficult.
Mr. Studer has a system for dealing with the understandable resistance to accepting that it is time for a medical device to assist in walking/prevent falls: "In my clinical practice, we use objective measures to justify care, as other practices do, but also to educate patients. I have used measures of gait speed and tolerance for a 6-minute walk test comparing their performance with and without an assistive device, for the primary purpose of education. When patients see that they could not tolerate a full 6-minute walk without a device, or see that they walked over 1/3 farther with a device…it does not take much convincing from me. The measures speak for themselves, and the preventative step of using a walker becomes evident when the goal is to stay safe and active."
If you or a loved one is showing any signs in increased weakness, problems with fatigue, balance or has had a "scare" or "almost fall", now is the time to look into options. Having a frank discussion about preventing falls, looking into devices that can help today can make all of the difference in the world. Speak to your doctor and discuss your mobility concerns. Speak to a physical therapist or visiting nurse about what options may be best for you. Thinking ahead, being realistic and anticipating the danger can make a life-saving difference.
https://www.ustep.com/wp-content/uploads/2019/01/Fallen-copy.png
204
376
Jonathan Miller
https://www.ustep.com/wp-content/uploads/2017/08/logoheader.png
Jonathan Miller
2019-01-17 11:58:00
2019-03-14 12:08:56
Don't Wait Until It's Too Late: Falls are Dangerous