"Life gets better the more you decide to take it easy on yourself." 
– Michael J. Fox
As we approach the holiday of Thanksgiving, our thoughts turn to how differently we will be celebrating this year. For a time that is so focused on family gatherings, many will be forced to celebrate alone. 
As challenging as that may be (and as corny as it may sound), let's remember that Thanksgiving gives us the opportunity to stop and reflect, not just about the toll of this most difficult year, but to take stock of things for which we are thankful.
I was inspired to write this after reading reviews of Michael J. Fox's new book, "No Time Like the Future: An Optimist Considers Mortality." Always optimistic about overcoming the challenges of living with Parkinson's, Michael describes his struggle with despair after a high-risk surgery two years ago to remove a tumor from his spine threatened to leave him paralyzed. And although the surgery was successful, he had to learn how to walk all over again. During this recovery period, Michael suffered a devastating fall that left him lying on the floor – alone –  with a broken arm. He describes this as a new low point in his life, and feeling like his life was over, his subsequent experience with terrible depression.
"I was lying on the floor in my kitchen with a shattered arm waiting for the ambulance to show up, and I kind of went, 'What an idiot. All this time you've been telling everybody to be optimistic, chin-up, and you're miserable now," he told USA TODAY in a recent interview. "There's nothing but pain and regret; there's no way to put a shine on this."
This experience saw the always-optimistic Michael take a pessimistic view of the world  – until he began to see the bigger picture. He questioned his ability to remain optimistic and eventually came to the realization that optimism was connected to being realistic and accepting his situation, whether he could change it or not. "Life gets better the more you decide to take it easy on yourself, " he said.
Ultimately, Micheal describes finding his way back with gratitude, explaining that "gratitude is what makes optimism sustainable." 
Michael is known around the world for his Michael J. Fox Foundation for Parkinson's Research. Since he started the foundation 20 years ago, he has raised awareness of the disease around the world, and the money raised through his efforts has funded new Parkinson's treatments and advanced research for a cure.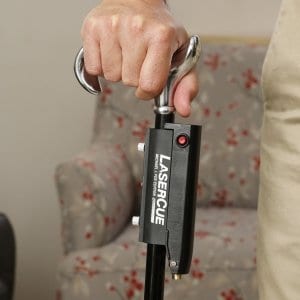 We at U-Step are proud and grateful for our past collaboration with Michael, which led to developing our completely unique LaserCue attachment for canes. And we join millions of people around the world who are grateful to Michael for his efforts on behalf of those with Parkinsons, and keeping hope and optimism alive.
Because as he said, "if there's gratitude, then you get to stay an optimist."
https://www.ustep.com/wp-content/uploads/2020/11/ustep-blog.png
1080
1080
Jonathan Miller
https://www.ustep.com/wp-content/uploads/2017/08/logoheader.png
Jonathan Miller
2020-11-25 16:20:52
2020-11-25 16:57:53
A Time to Give Thanks